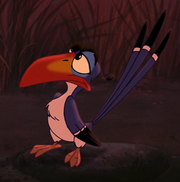 Zazu is a character in The Lion King II: Simba's Pride. He is a hornbill bird who works for Simba as his majordomo.
Biography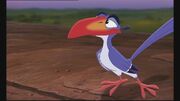 Zazu is very protocol, as he makes out in the film.
At first, he was Mufasa's majordomo.
Persona
Zazu is purple / blue with a bright orange / yellow beak.
Ad blocker interference detected!
Wikia is a free-to-use site that makes money from advertising. We have a modified experience for viewers using ad blockers

Wikia is not accessible if you've made further modifications. Remove the custom ad blocker rule(s) and the page will load as expected.